So when I was a kid, about age 9 to 17, practically every weekend would find my parents, my brother and me at the Penang Club (in Penang, duh). Some weekends were great; after a long week of school, we would spend time at the club, where us kids would indulge in the video games and the parents would gamble their money away in the adults' games room. Some of my fondest memories involve knocking on the vault-like door of the adults' games room, peeking in when it was unlocked, gesturing to the lady or gent behind the counter who would in turn gesture to my mum and dad, who would venture over with a plastic baggie with 5 or 10 ringgit in 20 cent coins for the video games. Sometimes my brother and I would spend these coins so quickly that my folks would greet us at the adults' games room door with "Haaah?? So faaaast ah??" Good times.
Other weekends would be tedious; after a week of school – afternoons after which would find us trapped in my parents' office all day before we headed home 50 minutes away, most evenings arriving home at 8pm onwards – sometimes I wanted to just go home and spend more time in the actual house we lived in (and with the dogs we owned then, who, understandably due to our being away so much, were outdoor dogs, unlike today). So the Club was both a place of fun as well as a place of tedium; I remember double-serve chicken chops and fish 'n' chips (because the single serves were too small for us; oy, this explains a lot); I remember the kids' games room aunty (who wasn't as old as I used to think she was, and I'm pretty sure she still works here, even though the kids' games room has now become a storage space). And I remember this kid named Syahreez with whom we'd get up to all sorts of pranks, such as painting "blood" on a friend's knee and then using a tape recorder to record the reactions of people all around us; making prank phone calls ("Excuse me, is your refrigerator running?
Well, then you better go catch it!"
); devising elaborate hidden-camera pranks that ultimately we never pulled off; planning on setting up a band, which resulted in my very first keyboard (all of 350 ringgit, it cost; the keys were so small that every time I returned to playing a regular-sized piano, the keys on the piano would, like an illusion, appear more enormous).
I remember the patio area downstairs where a live band would play every weekend and the bandleader / main singer would always wave at me because he recognised my musical ability even back then. (I remember when the patio area downstairs didn't even exist, and was instead a children's swimming pool that tended to be neglected and filled with dead leaves and algae.) I remember the old gym and squash courts upstairs (which I'm not sure still exist), and the stories we would tell and hear about that location being haunted. One day we were up there, my brother, Syahreez and I, and we were talking about ghosts... when suddenly the alarm-bell timer on an exercise machine went off even though all of us swore we'd been near it, causing us to run away in a panic. Good times. Oh, we were troublemakers, we were; my folks were even told off by management because of how rambunctious and mischievous we were.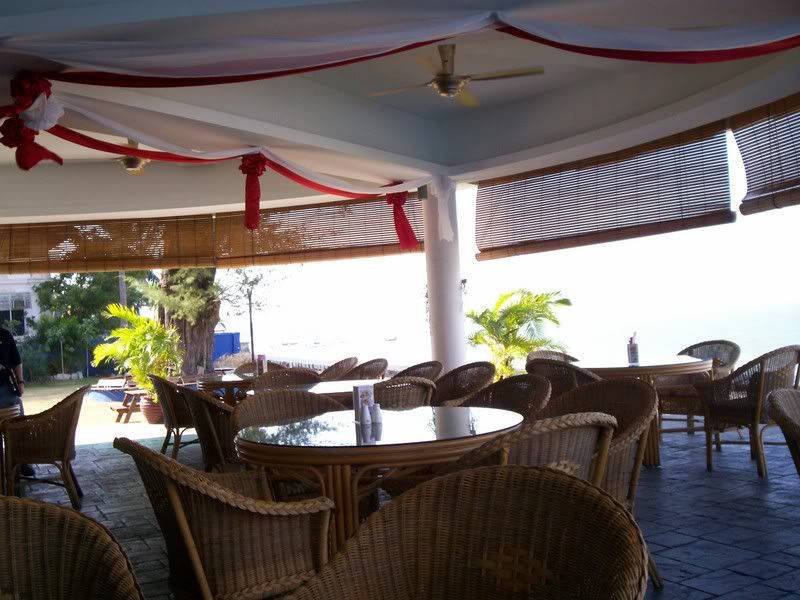 The patio dining area of the Club.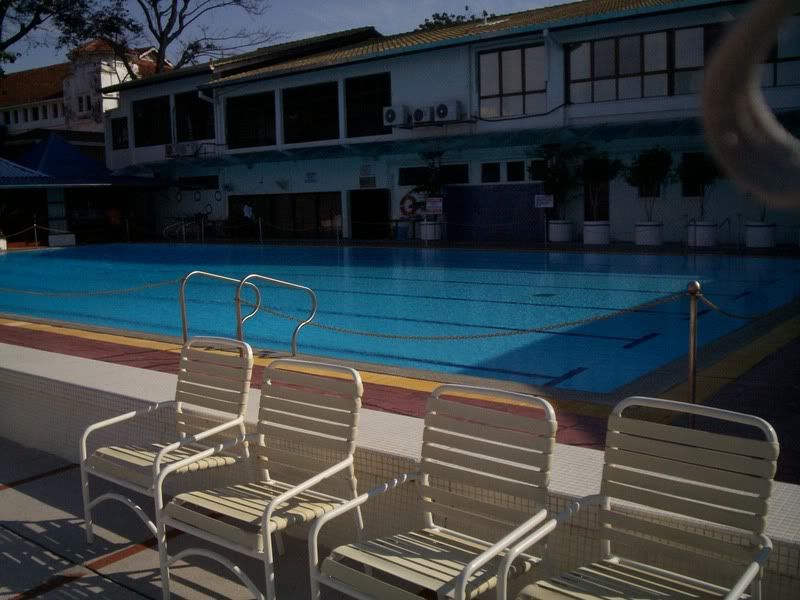 Swimming pool area, and a far-off glimpse of the now-defunct
kids' games room (black square next to the blue rectangle in the background).
The older I got the less appealing the Club was to me because I was starting to outgrow the video games (my brother didn't), and so I'd sit and read a book or comics (every week we had Comic Day, where I'd go to the nearby Penang Plaza shopping centre and pick up my regular reservation of British comic books, such as
Buster
and
Whizzer & Chips
), and most evenings get fidgety and irritable as I waited for my parents to finish flushing their money down the drain (midnight tended to be the going-home time). I even remember studying for my important school exams while seated in front of the reception counter at the Club, while the receptionists would make small talk or tsk-tsk at me or borrow my comics because they were bored. A couple of them are still here. Heh.
The Club, also, has accommodation, which is where I am right now. It finally got into the 21st century after a lifetime of not having an Internet connection in the rooms; at long last, free WiFi! A lot of the old staff members are still here, and a couple of them greeted me earlier. Imagine, they'd literally seen me grow from a chubby little kid of 8 or 9 to a chubby adult of 32. So all in all, the point of this long, storytelling post is to say, as unlikely as I would've thought it, that I'm grateful for
the
Penang Club
, and all its memories. Incidentally, I'm not considered a member of the club; my dad is the member (and by marriage, my mum), but my rights as a member's child were terminated when I turned 18. So I'm currently a guest, though I've long entertained the idea of getting my own membership (not cheap, and I'm not sure it would be entirely worth it either, given how infrequently I'm actually in Penang). Maybe in the future.
Here are a couple of pics of the rooms here (generic, plucked off the Club's
website
, as I'm too lazy to snap new photos, and also because my clothes are lying all over the place, making a mess). I'll be back soon to update on further adventures in Penang. Stay tuned!