Hello all. Whoo, for the first time in what seems like forever, something eventful has happened in the life of dreary Nick. Tonight (Sunday) saw a Halloween-themed author appearance at Borders bookstore for three of the
Get Spooked!
writers, Madame Guillotine, Vintsen De Sade and yours truly,
Freaky Nick
. Oy vey. Just in case you're wondering, those are pseudonyms. Arf arf. Anyway, the evening saw us getting into costume so as to preserve our anonymity (oops. My bad. Oh well) and then wandering about the bookstore trying to get the kids and grown-ups to venture to the section of the store where we'd be doing a reading, followed by book-signing and face-painting for the kids. All of which was done in costume, which allowed for some strange looks, but it was okay since I was hidden to begin with. The Ku Klux Klan in orangy-red was a nice, if slightly disconcerting, touch. Heh.
Anyway, we did the readings, and if I may say so, I reckon, in all humility (do I hear 'yeah right's springing forth??) that I was the most compelling reader, heheh... the kids were rapt, and even jumped and cringed at certain points when I was doing the SFX of accordion doors flapping open (yeah, my story had accordion doors which flapped open. Funny, that). Though at one point, I was meant to read
"clench her eyes shut"
and it came out sounding closer to
"clench her arse shut"
. My mate Terry, who was in the audience, swore he had to bite his lower lip to keep from laughing out loud. He's such a bitch... who's to say I didn't mispronounce it on purpose, huh? Huh??
Oddly enough I never thought our target audience was kids -- and apparently it isn't supposed to be, but rather the series is meant for young adults and grown-ups, but I guess this was the best they could come up with taking into account the venue and the time of day and whatnot. Go figure. Either way, it was a pretty successful evening I reckon, sweating and sweltering in the KKK outfit aside, even though in typical Malaysianness nobody ventured forth to buy any books but rushed forward for free candy. Trick or treat, cheapskates! (I had a bit of fun handing 'em out to the kids, uttering in a dull, bored-ish monotone: "Bwa. Ha. I. am. scarey. Fear. me.") And some of the kids ran away screaming and crying. It was both terrible and hilarious. Okay, I'm a big meanie. Sue me. ;)
What I liked most about tonight was that for a brief moment, just 5 minutes or so that it took me to read my story, it felt like I was performing again. On stage, getting dramatic, with an audience. Gawsh I miss it. I really do. And now with the back 95% healed THANK GOD, maybe it's time. It's time to get back in the game, boys and games. Look out world, Freaky Nick will be unleashed upon the stage again! Bwa-ha! BWA-ha-hahahahahahahaaaaa!!!!!
*raises arms up in the air in triumph. Lightning flashes; thunder roars. Close-up on Freaky Nick's victorious face frozen in gleeful, evil laughter, from three different camera angles.*
*cough*
I leave you with pics, click for bigger view, yea? Oh, and Terry snapped these shots, and apparently looked so convincing as a journo-photographer that people asked him which media outlet he was with. (The radio, he said, even though that raised eyebrows. "Um. I didn't think the radio had photographers???" Foooooo!!) Heh. Go Terry. Okay, buh-bye. And if I don't blog before Wednesday, happy Halloween!!! Hope you get spooked!! ;)))
Freaky Nick in Ku Kux Klan Kostume
Madam Guillotine, with her wild hair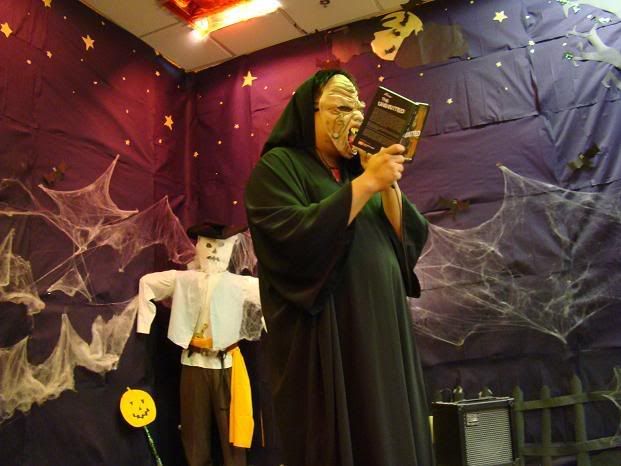 Vintsen De Sade, looking glamorous



Below, from left:

Freaky Nick during the reading; handing out candy to the kiddies;

freaky fotos with the kids and the kooky krew;

Freaky Nick wanders about the store;

books on display;

a different perspective of the reading;

Terry and Hairy;

killing Terry;

KKK kostume klose-up