Heyhey all... how's it going? First off, the big news: I'm
gainfully employed
at last. Whoohoo! Yep, it's official: the interview was last Friday, and yesterday (Thursday) they said "would you like to start Monday?" and I was, like, "
yes please."
So yippeeee - the ball has begun to roll, as it were - although roll towards
what
is the big question. Still...
full-time writer
is the position, focusing (hopefully) on theatre-arts, entertainment and lifestyle in general for
Off The Edge
(the complementary magazine to the newspaper
The Edge)
- and there's purportedly the added task of proof-reading and minor editing, which is something I really enjoy as well. And there's pretty good pay and some nifty allowances, so I think, all in all, we're off to a good start. Now let's just see what happens once I'm actually in the workplace. This should be interesting. Updates as and when.
On Tuesday night, I had a taste of what might be to come by being part of the media (without intending to sound too pretentious about it): an invite to the preview of the much-hyped
Superman Returns,
"dress code formal", even though nobody bothered to pay attention to that. One of the rules of being part of the screening was that absolutely no electronic devices were allowed into the cinema, including mobile phones - obviously to foil people from recording the movie illegally and displaying it over the internet ahead of time, ahaha! We even had to go through a metal-detector scan before we entered the screening hall, which is always an interesting experience outside of an airport environment. And there was complimentary popcorn and drinks... woooot!
Anyway, so that was pretty fun... the movie itself was (highlight if you want to be spoiled)
not all that good: Superman as a character kicks ass, but Superman as the movie was not too hot. If you go in there with expectations for a drama rather than an action-adventure, you'd probably have more of a good time. Too much character development and expression of forbidden emotion (yes, there's such a thing as overdoing it); too lacklustre and one-dimensional performances from the main leads; occasionally corny and overtly CGI'd flying scenes; main villains who just weren't threatening (i.e. convincing) enough, and a less than satisfying denouement equal a movie that, at the very most, deserves a generous 5.5 out of 10. It's the kind of two-and-a-half-hour movie that could very easily have been pruned to two hours. Fortunately,
Kevin Spacey
was pretty good as Lex Luthor in spite of the vapid material, and his sidekick Kitty, played by
Parker Posey
, was a riot.
So there you go. That's just my professional opinion.
Disclaimer: Opinion not to be viewed as my trademark reviewing style. Don't worry, I won't write like this in the magazine...
Am currently reading a pretty interesting book called
The Swarm
by German author Frank Schatzing... it's all about the oceans going mad with a malevolent life-form that threatens the ecological stability of the world and the survival of mankind on the whole. It's really interesting; my little summary there might make it sound far-fetched, but the book is so filled with factual exposition and elaborate true accounts and reports (including that of mysterious blobs that have been found in the ocean and have been identified as living tissue, from which the author creates the premise) that you start to wonder if it could all be quite plausible.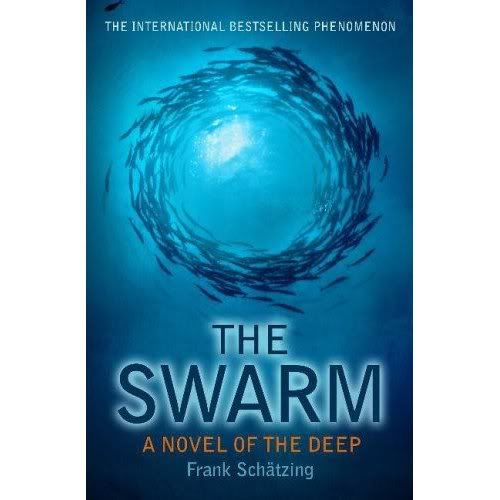 If you're interested, here's the Amazon.com review of the book:
For more than two years, one book has taken over Germany's hardcover and paperback bestseller lists, reaching number one in Der Spiegel and setting off a frenzy in bookstores: The Swarm.
Whales begin sinking ships. Toxic, eyeless crabs poison Long Island's water supply. The North Sea shelf collapses, killing thousands in Europe. Around the world, countries are beginning to feel the effects of the ocean's revenge as the seas and their inhabitants begin a violent revolution against mankind.

In this riveting novel, full of twists, turns, and cliffhangers, a team of scientists discovers a strange, intelligent life force called the Yrr that takes form in marine animals, using them to wreak havoc on humanity for our ecological abuses. Soon a struggle between good and evil is in full swing, with both human and suboceanic forces battling for control of the waters. At stake is the survival of the Earth's fragile ecology -- and ultimately, the survival of the human race itself.

The apocalyptic catastrophes of The Day After Tomorrow meet the watery menace of The Abyss in this gripping, scientifically realistic, and utterly imaginative thriller. With 1.5 million copies sold in Germany - where it has been on the bestseller list without fail since its debut - and the author's skillfully executed blend of compelling story, vivid characters, and eerie locales, Frank Schatzing's The Swarm will keep you in tense anticipation until the last suspenseful page is turned.
OooOOooo. Anyway - 870 pages, this book is, and I'm only about a quarter-way through (and hooked!) ... so if you get a chance to get your hands on this book, read it! Gripping stuff.
Rightyo then, boys and girls, that's about all for now. Take care, and until next time... ~N